Generate, Scan & Configure Barcode in Node.js
Use Node.js to build cloud-based barcode manipulation applications for 1D, 2D and postal barcode types for more than 60 symbologies.
  Start Free Trial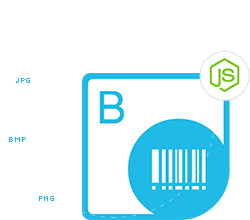 Aspose.BarCode Cloud SDK for Node.js
Use Aspose.BarCode Cloud SDK for Node.js, to rapidly develop cloud based node.js barcode generator and scanner applications. Our easy-to-use barcode REST API helps you manipulate and process, generate, recognize and convert 1D (EAN, UPC, Codabar, GS1), 2D (Macro PDF417, Micro PDF417, QR) and postal (Postnet, Planet, RM4SCC) barcodes for more than 60 barcode symbologies.
Moreover, our Node.js barcode extractor SDK, helps you configure and set various properties of barcodes. You can set barcode image resolution, its quality, margins, and dimensions. You can specify height of bars in the barcode, the rotation angle of the barcode or generate barcode with exact location of the text.
Aspose.BarCode Cloud SDK for Node.js, lets you recognize multiple barcodes from an image as well as pick barcode from a particular portion of an image, using image processing algorithms.
Platform Independence
Aspose.BarCode Cloud SDK for Node.js - some of supported languages and platforms.

SDK Requirements
Aspose.BarCode Cloud SDK for Node.js supports Node.js based applications on all major platforms
Supported File Formats
Aspose.BarCode Cloud SDK for Node.js - supported file formats.
Previous
Next
Advanced Features of Node.js SDK for Barcodes
Generate and read 1D (linear), 2D & postal barcodes
Set Barcode image resolution, angle, height, width, quality & margin
Set auto-size option or specify X and Y dimensions of barcode
Generate barcode with appropriate code text location
Set height of bars & rotate barcode image at an angle
Specify barcode image format and generate multiple barcodes
Recognize specified number of barcodes or read barcode from specific region of image
Read barcode from local/external image or from request body
Generate and recognize barcode with checksum option
Read barcodes via applying image processing algorithms
Generate & read barcode on Aspose cloud storage
Generate barcode to fetch as image stream or save to local disk
Get Started with Barcode Processing
It is easy to get started with Aspose.BarCode Cloud SDK for Node.js and there is nothing to install. Simply create an account at Aspose for Cloud and get your application information. Once you have the App SID & KEY, you are ready to give the Aspose.BarCode Cloud SDK for Node.js a try on any supported platforms.
Supported Barcode Symbologies
Aspose.BarCode Cloud SDK for Node.js supports large number of linear, 2D and Postal barcode symbologies. Furthermore, Aspose.BarCode Cloud SDK for Node.js supports more than 60 Barcode symbologies.
Supported linear barcode symbologies are:
EAN13
EAN8
UPCA
UPCE
Interleaved2of5
Standard2of5
MSI
Code11
Codabar
EAN14(SCC14)
SSCC18
ITF14
Matrix 2 of 5
PZN
Code128
Code39 Extended
Code39 Standard
Code93 Extended
Code16K
Code93 Standard
IATA 2 of 5
OPC
GS1Code128
ISBN
ISMN
ISSN
ITF6
VIN
Pharmacode
DatabarOmniDirectional
DatabarTruncated
DatabarLimited
DatabarExpanded
DatabarStackedOmniDirectional
DatabarExpandedStacked
DatabarStacked
PatchCode
Supplement (Decode only)
Supported 2D barcode symbologies are:
PDF417
MacroPDF417
MicroPDF417
CompactPDF417 (Decode only)
DataMatrix
Aztec
QR
MicroQR
DotCode
MaxiCode
Italian Post 25
GS1DataMatrix
Code16K
Supported postal barcode symbologies are:
Postnet
Planet
USPS OneCode
Australia Post
Deutsche Post Identcode
Deutsche Post Leticode
RM4SCC
SingaporePost
AustralianPosteParcel
SwissPostParcel
UpcaGs1DatabarCoupon
Support and Learning Resources
Why Aspose.BarCode Cloud SDK for Node.js ?
Aspose.BarCode also offers, BarCode processing SDKs for other popular languages, as listed below: