PHP Cloud SDK for Microsoft Visio Files
Use PHP Cloud SDK to manipulate Visio diagrams by creating and converting to PDF XPS XAML SWF SVG EMF JPEG PNG BMP TIFF HTML.
  Start Free Trial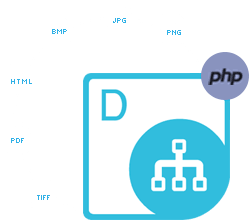 Aspose.DiagramCloud SDK for PHP
Aspose.Diagram Cloud SDK for PHP is developed on top of Cloud Rest APIs and is an easy-to-use, high-performance and well-documented Cloud SDK empowering the developers to create, manipulate & convert native Visio file formats within PHP applications. All these manipulation operations can be performed without using Microsoft Visio installed on system. The architecture of SDK is extensible, easy to use, compact and provides all primary functionalities, and developers can perform all common tasks with fewer code lines. Create diagrams from scratch or work with individual element of existing diagram and export the result to other Visio formats, images or fixed-layout formats i.e. PDF, PDF/A.
Platform Independence
If you do not want to use any of our SDKs or the required SDK is not available at the moment, you can still easily get started with Aspose.Diagram REST API while using your favorite language & platform.

SDK Requirements
Aspose.Diagram Cloud SDK for PHP - is compatible with all PHP applications on all major platforms..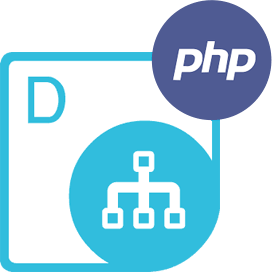 Supported File Formats
Aspose.Diagram Cloud SDK for PHP - supports popular Visio file formats.
Microsoft Visio: VSDX, VSX, VTX, VDX, VSSX, VSTX, VSDM, VSSM, VSTM
Microsoft Visio: VDW, VSD, VSS, VST
Fixed Layout: PDF, PDF/A, XPS
Images: JPEG, PNG, BMP, TIFF, SVG, EMF
Web: HTML
Other:XAML, SWF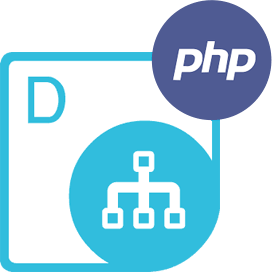 Previous
Next
Advanced features of PHP Cloud SDK
Read properties of different objects of the diagram
Read multiple Visio formats & specify fonts location.
Configure Visio TimeLine shapes
Save diagrams as XML or XAML
Insert a new blank page into a Visio drawing
Print Visio diagram on a server via XpsPrint
Rotate a shape at any angle
Specify reviewer for creating comments in Diagram
Platform & Storage Independence
It is easy to get started with Aspose.Diagram Cloud SDK for PHP as there is nothing to install. Simply create an account at Aspose for Cloud and get your application information. Once you have the App SID & key, you are ready to give the Aspose.Diagram Cloud SDK for PHP a try using PHP language - on any platform. Aspose.Diagram Cloud SDK for PHP can be used with any application, on any platform, which supports HTTP requests and responses. Nevertheless, you can also use Aspose.Diagram Cloud SDK for PHP with many third party storage providers including Amazon S3, Google Cloud, Google Drive and DropBox.
Visio Diagrams Manipulation in Cloud
Aspose.Diagram Cloud SDK for PHP is capable of reading Microsoft Visio files in native VSD/VSDX format as well as other popular Visio formats including VSS, VST, VSX, VTX, VDW, VDX, VSSX, VSTX, VSDM, VSSM and VSTM. The contents of the diagram can be manipulated through the Aspose.Diagram Cloud SDK for PHP. After making the required changes to the Visio file, the file can then be saved in supported formats.
Manipulate Visio Diagram Elements
Aspose.Diagram Cloud SDK for PHP is powerful SDK developed on top of RestFull APIs and offers the features to easily read the data of Visio diagrams i.e. Document Properties, Pages, Masters, Shapes, Images, Connects, Solution XML, Comments, Hyperlinks, StyleSheet, Layers, User-defined cells and so on. After the manipulation of Diagram objects, the result can be saved in either of the supported format.
Reliable Conversion Features
In a collaborative work environment, the Visio Diagrams are shared on regular basis and in order to view these files, one needs to install Microsoft Visio or other tools that could load Visio specific file formats. A workaround includes the conversion of Visio diagrams to universal fixed layout formats such as PDF, PDF/A, HTML & raster image formats such as BMP, JPEG, PNG, TIFF, SVG and EMF. The conversion do not require any special program to be installed on the machine. Therefore in order to accomplish such requirements, Aspose.Diagram Cloud SDK for PHP offers its own conversion engine, which works independent of any other software, and can convert supported Visio files to any of the supported output format with few code lines. The conversion process is quick yet reliable, offering you the high fidelity results regardless of the resultant file format.
Organize Shapes in Container
The shapes can be added in a container to keep things well organized and understandable. The containers add a visual boundary around shapes, including a label. To add a container and sub shapes to the diagram, developers can use Aspose.Diagram Cloud SDK for PHP because it gives an easy and quick approach..
Support and Learning Resources
Why Aspose.Diagram Cloud SDK for Ruby ?
Aspose.Diagram offers Microsoft Visio diagrams processing SDKs for other popular languages, as listed below: