Cloud SDK for Imaging Operations
Android Cloud SDK for advanced image processing in mobile Apps to scale, rotate, export, flip, crop, search & convert images.
  Start Free Trial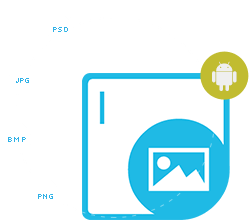 Aspose.Imaging Cloud SDK for Android
Our advanced Image Processing capabilities to be easily implemented in your native Android Apps, enabling you to deliver cutting edge, advanced image file manipulation, conversion and image search capabilities. Furthermore, the SDK also offers basic imaging capabilities such as resize, crop, rotate or flip, image inspection, conversion & transformation. Aspose.Imaging's AI engine enables the developers to perform Reverse Image Search from within their own applications.
In order to get started with Aspose.Imaging Cloud SDK for Android, you simply need to create an account at Aspose for Cloud and get your application information. Once you have the App SID & the Key, you are ready to give the Aspose.Imaging Cloud SDK for Android a try - on any platform.
Platform Independence
If you do not want to use any of our SDKs or the required SDK is not available at the moment, you can still easily get started with Aspose.Imaging Cloud REST API while using your favorite language & platform.

SDK Requirements
Aspose.PDF Cloud SDK for Android is available for Android 2.0 or above.
Native Android Applications
Hybrid Android Applications
Supported File Formats
Aspose.Imaging Cloud SDK for Android - supports popular image formats.
GIF
JPEG
JPEG2000
PSD
TIFF
WEBP
PNG
WMF
EMF
SVG
BMP (DIB)
DJVU
DICOM
CDR
CMX
ODG
DNG
Previous
Next
Advance Imaging Capabilities
Convert images to other supported formats
Convert images to fax compatible format
Integrates with other cloud services
Extract Frame from Multi-Frame TIFF Image
Manipulate format specific or generic image properties
Search duplicate or similar images
Compare whole image or a portion
Select several images for comparison
Inter-convert Image Formats
Aspose.Imaging Cloud SDK for Android provides an array of advanced algorithms which make it an all-in-one solution for image formats conversion. The Image conversion algorithms are encapsulated in specialized classes that are simple to use and can export images to conventional raster image formats JPEG, BMP, TIFF, GIF, PNG, PSD, EMF, WMF. Apart from conversion to Image format, it also provides the capabilities to render them to PDF format.
Convert BMP to JPEG format - Android

StorageApi storageApi = new StorageApi(Configuration.apiKey, Configuration.appSID, true);
ImagingApi imagingApi = new ImagingApi(Configuration.apiKey, Configuration.appSID, true);

com.aspose.imaging.model.ResponseMessage apiResponse
        = imagingApi.PostImageSaveAs(
                "jpg", 
                outPath, 
                inputFile
        );

Comprehensive TIFF Image Support
Aspose.Imaging Cloud SDK for Android provides an extensive support for Raster image formats including TIFF (Tagged Image File Format). You can perform a wide variety of operations on TIFF images, such as conversion to other formats and image manipulation operations. It also supports various operations specific to TIFF format including :
Resize a TIFF Frame
Crop a TIFF Frame
Rotate / Flip a TIFF Frame
Get TIFF Frame Properties
Extract Frame from a Multi-Frame TIFF Image
Manipulate & Save Modified Frame with Unmodified Frames
Reverse Image Search
Powered by Aspose.Imaging's Artificial Intelligence engine, the Aspose.Imaging Cloud SDK for Android is capable of performing reverse image search based on the degree of similarity and the minimum threshold of similarity. These features can be used to develop complex applications that can search duplicate or similar images in order to sort photo libraries or to filter-out inappropriate contents. Reverse image search capabilities are configurable, providing you the ability to define your own minimal threshold and select the comparison algorithm for the search. It is also possible to specify a portion of an image for the comparison and select several images to compare against or simply search images by the tag.
Manipulate Image Properties
Aspose.Imaging Cloud SDK for Android allows you to retrieve generic image properties such as dimension & resolution as well as format-specific parameters such as color depth, compression, EXIF and JFIF information in JSON or XML format. You can specifically retrieve and update properties related to BMP, GIF, JPEG, PNG, PSD and TIFF formats.
Support and Learning Resources
Why Aspose.Imaging Cloud SDK for Android ?
Aspose.Imaging also offers, Image processing SDKs for other popular languages, as listed below: