Cloud API to Manipulate and Convert Video files in any Platform
Aspose.Video for Cloud is a REST API to manipulate and convert the Video documents hosted on the cloud. It offers the capabilities to use any language & platform which is capable of calling REST APIs.
  Start Free Trial
Aspose.Videofor Cloud
Aspose.Video for Cloud is a true REST API which allows you to edit video file properties such as FPS, aspect ratio and resolution. Besides files manipulation, it also enables you to convert the video to different supported formats and also re-encode it with the different video codecs.
It also provides you the leverage to combine several video files into one single video, as well as adjust various properties such as:
Volume level
FPS
PTS
Resolution
Aspect Ratio
Bitrate
Video Standard (PAL, NTSC, FILM)
Supported Platforms
Aspose.Video for Cloud - some of the supported languages and platforms.

Supported File Formats
Aspose.Video for Cloud is Video file format REST API.
Audio Video Interleave File (AVI)
Animate Video File (FLV)
iTunes Video File (M4V)
MPEG-4 Video File (MP4)
Apple QuickTime Movie (MOV)
Windows Media Video File (WMV)
H.263/MPEG-4 Part 2 (DivX Pro Codec, Xvid)
Google (On2) (VP6, VP6-E, VP6-S, VP7, VP8, VP9, libtheora)
Microsoft codecs (WMV (including WMV 7, WMV 8, and WMV 9), MS MPEG-4v3)
H.262/MPEG-2 (x262)
H.264/MPEG-4 AVC (x264, QuickTime H.264, DivX Pro Codec)
H.265/MPEG-H HEVC (x265)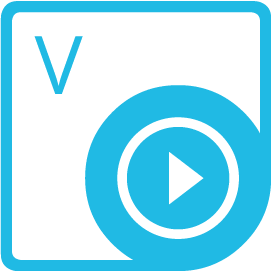 Previous
Next
Advanced Video Processing Cloud REST API Features
Re-encoding with different video codec
Inter conversion to various video formats
Interconversion between different formats
Aspose.Video for Cloud provides method for converting the video into different formats and during conversion, we can adjust video properties such as FPS, resolution, volume level etc. The similar method also supports the feature to add watermark (Text or Image) to the video file. The frameSize property in request provides the capabilities to update/adjust the resolution of video file.
Convert AVI file to MP4 - C#
var VideoApi = new VideoApi(AppKey, AppSID);
ConvertOptions options = new ConvertOptions();
var request = new PostConvertVideoRequest("original.avi", "mp4", "destination.mp4", options);
VideoApi.PostConvertVideo(request); 
Add Audio
The feature to Add audio track to the video file enables you to add an additional audio track and while playing video, the user can switch between these Audio tracks. These files can be in different format or you can use different codecs and the resultant file format will depend upon the extension provided for the resultant file. You can also set different time options for the audio track such as starting position, end position and offset. These options determine the time-frame in video from which the new audio will start playing and you can also specify the point until which it will be played.
Append Videos
Get the feature to Append one video file to another video file. The files can be in different format or they can use different codecs but the resultant file will depend upon the extension specified for resultant file (i.e. AVI, MP4, M4V etc). Now concerning to the encoding of resultant file, you can set any supported codec (i.e. x265, x264, WMV etc) or you can leave it default value.
Extract Video
Aspose.Video for Cloud also offers the feature to Extract a part of video from input file and save it as a new video file. While extracting the video, you need to specify the time position in milliseconds from which the extracted part will begin and also the duration in milliseconds for the extracted part (how much milliseconds should be extracted).
API Explorer
The easiest way to try out our API right away in web browser is using Aspose for Cloud Web API explorer. It is a collection of Swagger documentation for the Aspose for Cloud APIs, where you get the information about all the resources in the API. It also provides testing and interactivity to our API endpoint documentation.
Support and Learning Resources
Why Aspose.Video for Cloud ?