C# .NET REST API to Build OCR Applications
Make your own Optical Character Recognition (OCR) programs to recognize & English, Spanish & French text from raster images stored on the cloud.
  Start Free Trial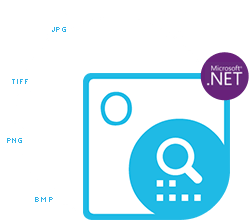 Aspose.OCR Cloud SDK for .NET
Aspose.OCR Cloud SDK for .NET assists .NET programmers to develop OCR processing and manipulation apps for cloud using their .NET supported language of choice (e.g., C#, ASP.NET etc.). Our OCR Cloud SDK is based on Aspose.OCR REST API and is offered under an MIT license.
Aspose.OCR Cloud SDK for .NET makes it very easy for .NET developers to perform OCR recognition operations on raster images (BMP, JPG, GIF, PNG, TIFF) in the cloud, extract text from raster images and export to TXT, PDF or OCR formats.
Aspose.OCR Cloud SDK for .NET enables your C# code to read font and character information of English, Spanish and French languages, return response in JSON and XP formats as well as extract the raster image text via OCR technology. You can scan and extract the whole image or provide X and Y coordinates of a specific section of the image to perform OCR operation on that particular section for text extraction.
Platform Independence
Aspose.OCR Cloud SDK for .NET - some of supported languages and platforms.

SDK Requirements
Aspose.OCR Cloud SDK for .NET - requires .NET Framework and Json.NET.
Supported File Formats
Aspose.OCR Cloud SDK for .NET - supported file formats.
Previous
Next
Advanced OCR API Features
Extract and recognize text from images via OCR
Recognize text from whole or partial image
Specify portion of the image from which to extract text
Read character and font information from raster images
Return the response in XML or JSON format
Recognize English, French or Spanish text from image
Get Started with Image Scanning SDK
It is easy to get started with Aspose.OCR Cloud SDK for .NET and there is nothing to install. Simply create an account at Aspose for Cloud and get your application information. Once you have the App SID & key, you are ready to give a try to Aspose.OCR Cloud SDK for .NET. 
Cloud OCR SDK to Extract Content from Images
Optical character recognition can be performed either on a whole image or on a specific portion of the image. If the required characters are all over the image then scanning the whole image is the better option. If you want to scan partial image then specify a rectangular area containing the characters. Aspose.OCR Cloud SDK for .NET allows passing X and Y coordinates from where the rectangle is supposed to be started as well as its width and height.
Once the character recognition operation is initiated within the specified rectangular area, the cloud OCR SDK will read the characters and font information from that area and return the response in XML or JSON format.
Recognize Characters of Different Languages
The characters of different languages have different representations. If we combine the languages with the font types and styles - it makes a large set of characters to be recognized from an image. Aspose.OCR Cloud SDK for .NET handles this task very elegantly as it can recognize text in English, French and Spanish languages.
Support and Learning Resources
Why Aspose.OCR Cloud SDK for .NET ?
Aspose.OCR also offers, OCR processing SDKs for other popular languages, as listed below: