PowerPoint Manipulation Cloud SDK for Go Language
Build Go Apps to manipulate presentations and slides by creating, merging, splitting & converting PowerPoint to other formats.
  Start Free Trial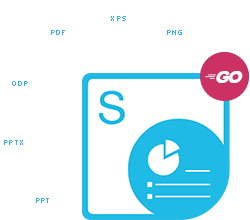 Aspose.Slides Cloud SDK for Go
Our platform independent SDK offering the capabilities to create as well as manipulate Microsoft PowerPoint presentations in the Cloud. Perform operations like Split, Merge, Copy, Delete, Add New Slide, Move Slides, Get Slides Count, Delete slide background, get Color Scheme, Aspect Ratio, Get Comments, Extract or even Manipulate elements within presentation including slides, Text, Font schemes, Shapes, Images or Extract the individual shapes from slides to supported image formats. The SDK is also capable of the inter-conversion of the industry standard presentation formats as well as commonly used image formats including SVG. It also provides an aided feature to specify dimensions of resultant file while ensuring the highest fidelity standards.
Platform Independence
Aspose.Slides Cloud SDK for Go - some of supported languages and platforms.

SDK Requirements
Aspose.Slides Cloud SDK for Go - works on all Go Language supported platforms.
FreeBSD 10.3 or later
Linux 2.6.23 or later with glibc
macOS 10.10 or later
Win 7, Server 2008R2 or later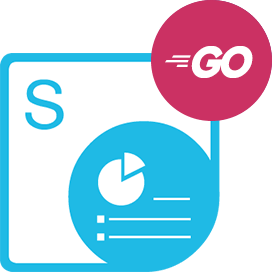 Supported File Formats
Aspose.Slides Cloud SDK for Go - supported file formats.
Microsoft PowerPoint: PPT, PPTX, PPS, PPSX, PPTM, PPSM, POTX, POTM
OpenOffice: ODP
Fixed Layout: PDF, PDF/A, XPS
Images: JPEG, PNG, BMP, TIFF, SVG
Web: HTML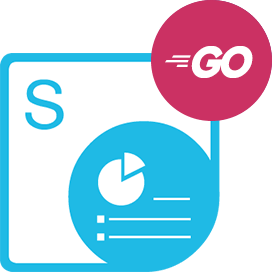 Previous
Next
Advanced PowerPoint manipulation Features
Get presentation images in specified format
Add, update, remove, convert slide notes
Copy layout slide or master slide from source presentation
Merge multiple presentations specified in request parameter
Fetch information about slide placeholders
Set, fetch or remove presentation document properties
Create, update or convert slide to supported formats
Extract and replace text from specific slide or entire presentation
Fetch slide color or font theme information
Create presentation and export it to supported formats
Create presentation document from HTML
Split presentation into multiple ones
Get Started with PowerPoint Presentation Processing
It is easy to get started with Aspose.Slides Cloud SDK for Go as you need nothing to install. Simply create an account at Aspose for Cloud and get your application information. Once you have the App SID & key, you are ready to give the Aspose.Slides Cloud SDK for Go a try on any platform.
Presentation Slide Processing Features
Aspose.Slides Cloud SDK for Go allows the developers to perform basic to advanced presentation slide processing operations. You can read presentation slides information. Create new slides. Copy, modify or delete existing slides. Convert presentation slides from PowerPoint formats to other supported formats via Cloud SDK. You can also manipulate slide background by apply new background, read and remove existing background for any slide. Aspose.Slides Cloud SDK for Go enables you to reorder slide position within the presentation. You can also copy a slide from current or another presentation. Presentation slide comments can also be retrieved.
Processing Slide Shapes and Notes
Aspose.Slides Cloud SDK for Go allows developers to create new shapes for presentation slides. You can read and update properties information for existing slide shapes. Our presentation slides processing Cloud SDK enables you to render slides shapes to supported image formats. Aspose.Slides Cloud SDK for Go also helps you work with presentation slide notes.
Support and Learning Resources
Why Aspose.Slides Cloud SDK for Go ?
Aspose.Slides also offers, Presentations processing SDKs for other popular languages, as listed below: