Work with Word Documents using .NET
Create, edit, convert and split Word documents in the Cloud.
 Start for free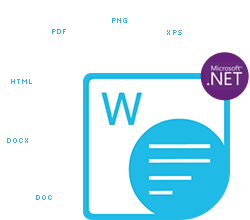 Aspose.Words Cloud .NET SDK
Aspose.Words Cloud .Net SDK helps cloud developers to build business applications in .NET to process and manipulate Microsoft Word documents, OpenOffice files and other types of documents without the need to install any third-party software. Aspose.Words Cloud .Net SDK allows your applications to create documents, join or split documents, perform the comparison, apply text or image watermark, search and replace text, apply password and export documents as industry-standard formats.
Using Aspose.Words Cloud .Net SDK, you can also work with document tables, paragraphs, sections, bookmarks, comments, headers, footers, OLE data, OfficeMath objects, mustache or mail-merge templates, as well as files and folders management.
Platform Independence
Aspose.Words Cloud .Net SDK - some of supported languages and platforms.

SDK Requirements
Aspose.Words Cloud .Net SDK - requires .NET Framework and Json.NET.
Supported File Formats
Aspose.Words Cloud .Net SDK - supported file formats.
Microsoft Word: DOC, DOCX, RTF, DOT, DOTX, DOTM, FlatOPC (XML)
OpenOffice: ODT, OTT
WordprocessingML: XML
Web: HTML, MHTML, HtmlFixed
Text: TXT
Fixed Layout: PDF
Fixed Layout: PDF/A, XPS, OpenXPS, PS
Images: JPEG, PNG, BMP, SVG, TIFF, EMF
Others: PCL
Previous
Next
Advanced Word Processing Cloud SDK Features
Create a new document in Supported Microsoft Word & Open Office formats
Join multiple documents or Split large documents into smaller ones
Compare document with the original document
Convert and export Microsoft document to supported file formats
Add new document property or update and existing one
Search for required text within a document and replace it
Insert an image or text-based watermark in a document
Set or modify document password and security settings
Get or update page setup of the document section
Classify raw text or document
Remove macros from the document
Save web page in Microsoft Word format
Fetch the list of tables present in the document
Add, Update, Fetch and Delete table data, its rows & cells
Update or reset table border properties to default values
Render page, paragraph, table, drawing or math object
Perform file and folder management operations
Fetch all files and folders within a specific folder
Add fields and drawing objects to documents
Fetch drawing object OLE data
Read or remove OfficeMath objects
Get Started with Word Document Processing SDK
No download or install is required. Simply create an account at Aspose for Cloud and get your application information. Once you have the App SID & key, you are ready to give a try to Aspose.Words Cloud .Net SDK on all supported platforms.
Convert Word documents to PDF - .NET
// For complete examples and data files, please go to https://github.com/aspose-words-cloud/aspose-words-cloud-dotnet
        
        // Get AppKey and AppSID from https://dashboard.aspose.cloud/#/apps
        string MyAppKey = ""; 
        string MyAppSid = ""; 
        
        WordsApi wordsApi = new WordsApi(MyAppKey, MyAppSid);
        StorageApi storageApi = new StorageApi(MyAppKey, MyAppSid);
        
        var request = new PutConvertDocumentRequest(File.OpenRead("output.doc"), "pdf");
        var result = wordsApi.PutConvertDocument(request);
        
Mail Merge & Reporting
Aspose.Words Cloud .Net SDK supports developers to use fetch MailMerge document field names locally or via request body and in the same way it allows to populate Mustache or MailMerge template with data both locally or via request body. You are also allowed to insert HTML or images in a merge field. You can design reports in Microsoft Word and then allow Aspose.Words Cloud .Net SDK to populate documents with data from XML data sources.
Editing and Revising Cloud Document
Using Aspose.Words Cloud .Net SDK your applications will be able to perform various editing and revising operations on a document in the cloud. You can add, update, or remove paragraphs from documents; get all the format settings of the paragraph; read and update document bookmarks; add, update or remove document comments; insert document page numbers, and accept or reject all revisions of the document.
Fetch Document Information via Cloud SDK
Aspose.Words Cloud .Net SDK makes it easy for you to fetch information regarding documents in the cloud. Using our Words Cloud SDK you can get font list for document processing and reset font's cache, read document hyperlinks by common info or by their index, get the list of document sections or get specific section by index, get document statistics, and fetch document information in JSON/XML or other supported formats.
Support and Learning Resources
Why Aspose.Words Cloud .Net SDK?
Aspose.Words also offers other SDKs as listed below: