Work with Word Documents on Android programmatically
Manage, generate, convert and merge Word documents in the Cloud.
 Start for free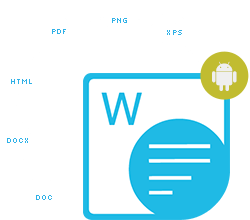 Aspose.Words Cloud Android SDK
Convert, split, merge, create, compare, edit a Word document in Android programmatically. Develop Android apps dealing with Word documents easily. Integrate our Cloud API into your mobile apps to get the full control of working with Word documents. We provide mail merge or report generation, adding headers or footers, paragraphs, text & images, watermarks & hyperlinks, find & replace text, and various other document related features.
Some of supported languages and platforms

SDK is available for Android 4.2.2 or above
Native Android Applications
Hybrid Android Applications
Microsoft Word: DOC, DOCX, RTF, DOT, DOTX, DOTM, FlatOPC (XML)
OpenOffice: ODT, OTT
WordprocessingML: XML
Web: HTML, MHTML, HtmlFixed
Text: TXT
Fixed Layout: PDF
Fixed Layout: PDF/A, XPS, OpenXPS, PS
Images: JPEG, PNG, BMP, SVG, TIFF, EMF
Others: PCL
Previous
Next
Advanced Features
  Mail merge and report generation
  Merge documents
  Split a Word document
  Edit metadata
  Convert a Word document
  Create reports from templates
  Insert a page number into Word documents
  Document Classification
  Edit watermarks in a Word document
  Work with tables in Word documents
  Find and replace text in Word documents
  Protect documents with a password
Convert Word documents on Android programmatically
We provide the complete support for Word and PDF conversion. Convert documents to to DOC, DOCX, PDF, HTML, TIFF, EPUB, XPS, ODT, RTF, SWF, PCL, images and many other formats. You can choose either of the supported formats during the conversion process. SDK gives Android developers the power to render a whole document or an individual document page to image formats such as GIF, PNG, JPEG, and TIFF, or even to vector images, with the highest degree of precision.
Convert PDF to Word document in Android
Our Cloud API provides an exceptional feature of loading PDF documents from the storage as an input and converting it to a Word document with ease. The great thing is that it provides support for converting encrypted PDF. While exporting PDF to Word, it identifies the important sections of a PDF documents such as headers and footers, the section containing page numbers and document name, etc. and going to convert it as headers and footers in word documents and thus do not affect rest of the page layout. The converter currently supports text and paragraphs, bulleted and numbered lists, tables, images, style, bookmarks and much more.
Split a Word document
Sometimes organizations or individuals using large Microsoft Word documents may require to split those documents into smaller ones. Android developers could do it on the fly using our Cloud API. Splitting documents involves several steps that need to be correctly executed for getting the desired results. Aspose.Words Cloud Android SDK makes it hassle-free for you by removing the need for such complicated tasks.
Support and Learning Resources
Why Aspose.Words Cloud Android SDK?