Work with Word Documents using Java
Create, edit, convert and split Word documents in the Cloud.
 Start for free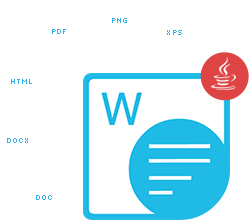 Aspose.Words Cloud Java SDK
Aspose.Words Cloud Java SDK is built on top of a comprehensive set of Java RESTful APIs that help you integrate Microsoft Word & OpenOffice document processing & manipulation functionality into your Java Apps.
Create, split, render, join, and compare Word documents using Java Cloud SDK. Work with bookmarks, tables, form fields, fonts, footers, footnotes and lots of other document elements. Convert documents to PDF, XPS, XamlFixed, SVG, HtmlFixed, OpenXps, PS, PCL, EPUB, XamlFlow, XamlFlowPack, TIFF, PNG, BMP, EMF, and GIF.
Platform Independence
Aspose.Words Cloud Java SDK - some of supported languages and platforms.

SDK Requirements
Aspose.Words Cloud SDK for Java only requires Java on all major platforms.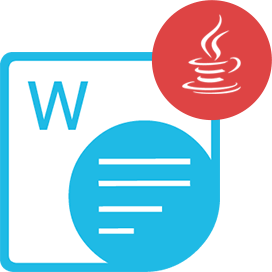 Supported File Formats
Aspose.Words Cloud Java SDK - supported file formats.
Microsoft Word: DOC, DOCX, RTF, DOT, DOTX, DOTM, FlatOPC (XML)
OpenOffice: ODT, OTT
WordprocessingML: XML
Web: HTML, MHTML, HtmlFixed
Text: TXT
Fixed Layout: PDF
Fixed Layout: PDF/A, XPS, OpenXPS, PS
Images: JPEG, PNG, BMP, SVG, TIFF, EMF
Others: PCL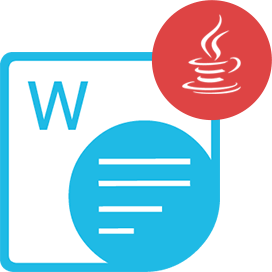 Previous
Next
Advanced Word Processing Features
Merge multiple Word documents
Split pages of Word document
Manipulate document properties
Insert page number field into Word documents
Insert or edit watermark in documents
Find or replace text in Word documents
Interconvert document format
Manipulate Bookmarks in Document
Add, Update, Delete Comments from Document
Work with Tables in Word Document
Cloud SDK as a wrapper around REST API
Mail Merge Operations
Aspose.Words Cloud Java SDK can easily execute simple to complex mail merge operations and its a fully featured reporting solution. Design your reports in Microsoft Word and then allow Aspose.Words Cloud Java SDK to populate documents with data from a number of data sources. It also allows developers to use Microsoft Word's standard mail merge fields in reports and you can also use the SDK's extended syntax for mail merge fields to perform more complex operations such as inserting images or repeatable regions whereas the data that drives the reports and mail merge can come from ResultSet objects, business objects or from a completely custom data source.
Support for Popular Word Formats
An extensive support for various popular Word Document formats including DOC, DOCX, RTF, DOT, DOTX, DOTM, FlatOPC (XML), ODT, OTT, OpenDocument 1.1, OTT, OOXML and Word 2003 XML. Specifically, the RTF specification is a set of pre-defined keywords which includes over 1400 keywords in the RTF 1.8 Specification and Aspose.Words Cloud Java SDK is capable of fully supporting (reading) the majority of these keywords.
PDF to Word Document Conversion
Aspose.Words Cloud Java SDK offers a unique feature of rendering PDF files to Word document format. The built-in conversion engine provides the feature to load PDF document from storage as an input and convert it to Word document. During the conversion process, you can choose either of the supported formats i.e. DOC/DOCX. The conversion is robust enough as it converts PDF tables and lists into native Word tables and lists. The images including Semi-transparent, Rotated and inline images (i.e. images that go "inside" the text, is a logical part of text paragraph) are also honored during this conversion process and the resultant documents can be further edited in Word processing applications.
Convert Word documents to PDF - .NET
// For complete examples and data files, please go to https://github.com/aspose-words-cloud/aspose-words-cloud-java
    
    // Get AppKey and AppSID from https://dashboard.aspose.cloud/#/apps
    String APP_KEY = ""; 
    String APP_SID = ""; 
    
    WordsApi wordsApi = new WordsApi(new ApiClient());
    ApiClient client = wordsApi.getApiClient();
    client.setAppKey(APP_KEY).setAppSid(APP_SID);
    PutConvertDocumentRequest request = new PutConvertDocumentRequest(new File("output.docx"), "pdf",
            null, null, null, null);
    File result = wordsApi.putConvertDocument(request);
    
Working with Document Elements
Aspose.Words Cloud Java SDK empowers you to create, build and modify Word documents, including document formatting with an intuitive document object model that is comprised of numerous classes. You can programmatically create, modify, extract and replace all document elements including sections, headers, footers, paragraphs, lists, tables, text, fields, hyperlinks, bookmarks, annotations, tables, hyperlinks, shapes, and images. It also allows you to specify detailed formatting for drawing objects including shapes, text boxes, images, OLE objects and controls and all the operations on these elements can be performed with the help of simple REST-based interface in the cloud.
Support and Learning Resources
Why Aspose.Words Cloud Java SDK?
Aspose.Words also offers other SDKs as listed below: