Python Cloud SDK to Manipulate Word Documents
Python Cloud SDK for creating and processing Word documents by rendering, appending, comparing, splitting, and converting documents.
  Start Free Trial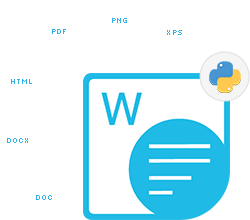 Aspose.Words Cloud SDK for Python
Empower your Python Apps to create, process and manipulate Microsoft Word and OpenOffice documents from within your Python Apps. Without installing any software, simply integrate Aspose.Words Cloud SDK for Python into your applications to render and convert your favorite business documents into PDF, raster images and various other supported file formats.
Secure your business documents by applying document protection via Aspose.Words Cloud SDK for Python which works on top of our Python Cloud REST API.
Apply mail merge, footnotes, bookmarks, comments, drawing objects, watermarks and track changes to your Word documents.
Work with text items, page numbering, headers & footers, drawing objects, paragraphs, and other document elements using Aspose.Words Cloud SDK for Python.
Platform Independence
If you do not want to use any of our SDKs or the required SDK is not available at the moment, you can still easily get started with Aspose.Words Cloud REST API while using your favorite language & platform.

SDK Requirements
Aspose.Words Cloud SDK for Python - supports Python based applications on all major platforms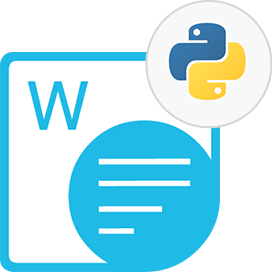 Supported File Formats
Aspose.Words Cloud SDK for Python - supports the popular word processing formats as well as most commonly used image file formats that your business requires.
Microsoft Word: DOC, DOCX, RTF, DOT, DOTX, DOTM, FlatOPC (XML)
OpenOffice: ODT, OTT
WordprocessingML: XML
Web: HTML, MHTML, HtmlFixed
Text: TXT
Fixed Layout: PDF
Fixed Layout: PDF/A, XPS, OpenXPS, PS
Images: JPEG, PNG, BMP, SVG, TIFF, EMF
Others: PCL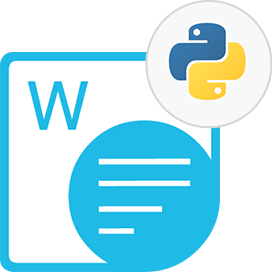 Previous
Next
Advanced Word Processing Features
Split all or specific pages of a Word document
Manipulate document properties including Metadata
Execute mail merge template
Merge multiple Word documents
Convert Word documents to different formats
Execute simple to complex mail merge
Insert a page number field into Word documents
Insert or edit watermark in Word documents
Find or replace text in Word documents
Password protect Word documents or update document protection
Convert PDF document to MS Word format
Document & Text Classification
Quick & Reliable Conversion Between Popular Document Formats
Get a quick and reliable conversion of Word documents to other leading file formats including PDF where output conforms to PDF 1.5 or PDF/A-1b specifications. Get an ability to extract Word document contents or save file contents as plain Text file. Be amazed with great fidelity of output when performing Word to EPUB conversion because the Content, formatting, images, hyperlinks and navigation will work in any EPUB compliant reader.
Aspose.Words Cloud SDK for Python is also capable of converting individual document page to raster images or vector images, with a highest degree of precision. Last but not the least, get same high-fidelity page layout of rendering engine to produce output in fixed-layout format when dealing with Word to XPS conversion. Such a high degree of precision while ensuring accuracy and highest quality of rendering with an efficient conversion, and all being performed with simple methods.
Please note that Aspose.Words Cloud SDK for Python ensures that the converted documents are produced according to the target file's standards and specifications so that the resultant file can easily be loaded within the native tools.
Mail merge and reports generation
Aspose.Words Cloud SDK for Python allows developers to use standard or more complex mail merge operations such as inserting images or repeatable regions in reports. You can design reports in Microsoft Word and then allow Aspose.Words Cloud SDK for Python to populate documents with data from XML data sources.
Protecting the Word documents
Aspose.Words Cloud SDK for Python allows developers to secure and protect the Word documents. A simple code snippet enables you to protect a Word document on the Aspose Cloud Storage. The SDK is built on top of REST API which is completely independent of your operating system, database system or development language. However we have provided this SDK, in order to make it even easier to integrate in Perl language. So you can use it to encrypt and protect your input documents.
Reading Table information from a Word document - Python

#Instantiate Aspose Storage SDK
storage_apiClient = asposestoragecloud.ApiClient.ApiClient(apiKey, appSid, True)
storageApi = StorageApi(storage_apiClient)
#Instantiate Aspose Words SDK
api_client = asposewordscloud.ApiClient.ApiClient(apiKey, appSid, True)
wordsApi = WordsApi(api_client)

#upload file to aspose cloud storage
storageApi.PutCreate(Path="SampleBlankWordDocument.docx", file="../../data/"+ "SampleBlankWordDocument.docx")

#invoke Aspose.Words SDK to protect a word document
    response = wordsApi.PutProtectDocument(name="SampleBlankWordDocument.docx", body=body, filename="SampleBlankWordDocument_Protected.docx")

    if response.Status == "OK":
        print "Document has been protected successfully"
        #download updated document from storage server
        response = storageApi.GetDownload(Path="SampleBlankWordDocument_Protected.docx")
        outfilename = "c:/temp/" + "SampleBlankWordDocument_Protected.docx"
        with open(outfilename, 'wb') as f:
                    for chunk in response.InputStream:
                        f.write(chunk)

Manipulate Tables in Word document
Aspose.Words Cloud SDK for Python enables the developers to read table information from a Word Document, or even Delete the table from Word document.
Working with watermark images
Aspose.Words Cloud SDK for Python supports manipulating individual document elements including text, images, annotations, bookmarks, tables, hyperlinks, shapes and so on. All the operations on these elements can be performed with the help of simple REST based interface in the cloud. Aspose.Words Cloud SDK for Python provides the feature to add as well as remove any existing watermark from Word document. It also provides the feature to add Watermark Text inside the Word document. In order to add watermark image, you need to upload the image to Cloud storage and then reference the same image during watermarking process. The feature to delete watermark is also as simple as addition and all you need to do is call a simple method to remove the watermarks from document.
Support and Learning Resources
Why Aspose.Words Cloud SDK for Python ?
Aspose.Words also offers individual Word processing SDKs for other popular languages as listed below: